Featured Alumni
The Newcomb Art Department would like to hear how you are doing! Please contact the department by email so we can share alumni news on our webpage and in upcoming newsletters.
Alexandra Kennedy-Troya, MA 1984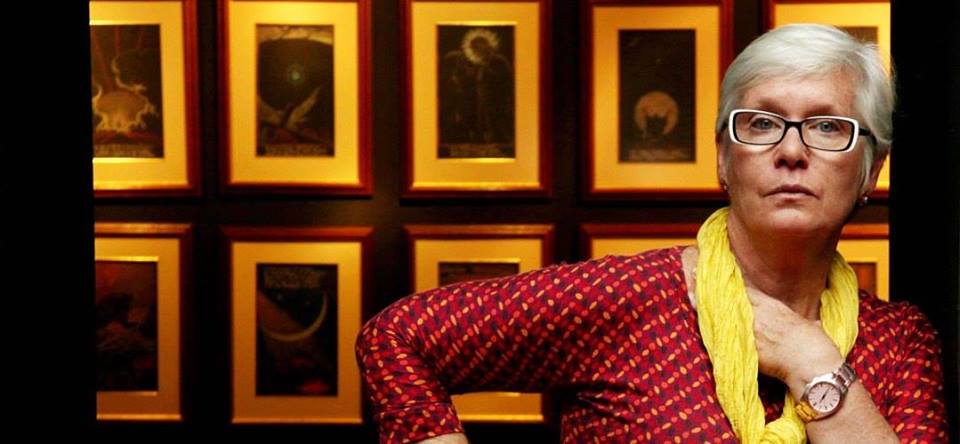 Alexandra Kennedy-Troya is a professor and researcher in the Faculty of Architecture and Urbanism of the University of Cuenca, Ecuador. After finishing her master´s degree at Tulane, she received her PHD at the Catholic University of Ecuador in Quito. She also teaches art history and curatorial practices on a graduate level at the Andean University Simón Bolívar in Quito and, when required, other courses in Latin American universities. For many years she researched and published on late colonial Andean art and architecture, but in the last 20 years her focus has turned to 19th and early 20th century art and architecture in Ecuador and other Latin American countries. She combines art history and cultural history and has been engaged in many conservation projects such as the Convento de San Diego and Teatro Nacional Sucre in Quito; and the Casa Córdova and Casa Museo de Remigio Crespo Toral in Cuenca. The Municipality of Cuenca gave her the award "Hernan Crespo Toral" for her engagement in conservation projects (2010).
She has curated two landmark exhibitions on Ecuadorean modern art: Escenarios para una patria. Paisajismo ecuatoriano 1850-1930 (Quito, 2008), and Alma mía. Simbolismo y modernidad en Ecuador.1900-1930 (seven simultaneous sites in the historic center of Quito, 2013-2014). She has also participated in other international exhibitions as co-curator: Barroco de la Nueva Granada, Colonial Art from Colombia and Ecuador (New York, 1992); Passie en Devotik vit Ecuador (The Hague, 2000); El regreso de Humboldt (Quito/Bogotá, 2001); and Ecuador. Tradición y modernidad (Madrid, 2007). She has additionally worked as a consultant to major international exhibitions, such as Landscape in the Americas. Paintings from Tierra del Fuego to the Artic (Ontario/Sao Paulo/Philadelphia, 2015-2016).
Dr. Kennedy-Troya was the first woman to be elected to Eduador's National Academy of History. She is currently working on the creation of the first masters program in Art and Architectural History in Ecuador.
Alumni News Archive
Joseph Burwell, MFA 1999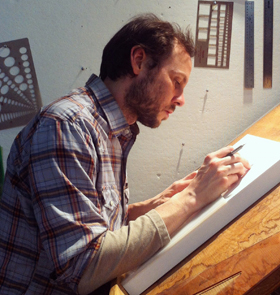 Joseph was born in Iceland in 1970 and raised in southwestern Virginia. He began to study Architecture at Savannah College of Art and Design but changed his major to Studio Arts and received his Bachelor Degree at the College of Charleston in South Carolina in 1993. Joseph studied Sculpture in the Graduate Program at Tulane University in New Orleans and graduated in 1999. He taught for 1 year as an Adjunct Professor at both Tulane University and Loyola University before moving to New York City. There he has participated in residencies at The Cooper Union for the Advancement of Science and Art, in the PS 122 Project Studio Program, , in The Lower Manhattan Cultural Council'S Workspace Program, and in The Robert Blackburn Printmaking Workshop Studio Immersion Project. Joseph is a 2011 fellow in Drawing/Printmaking/Book Arts. He has shown in New York, Switzerland, Finland, Norway, Ireland, Egypt, Canada, South Korea, and at different venues across the US. He currently resides and works in his studio in Brooklyn.
Elliot Doughtie, BA 2007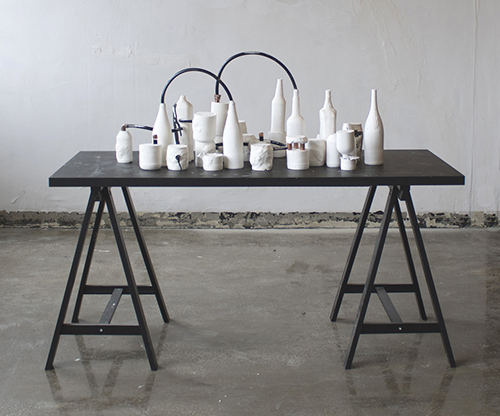 Elliot Doughtie (BA, Studio Art, Art History, '07) was named a 2018 recipient of the Joan Mitchell Foundation Painters & Sculptors Grants. The Foundation currently awards $25,000 to twenty-five artists through a nomination process. Nominators from across the country are invited to recommend artists, at any stage in their career, who are currently under-recognized for their creative achievements, and whose practice would significantly benefit from the grant.
Elliot Doughtie is a Baltimore-based artist originally from Dallas, TX. Doughtie's current practice utilizes drawing, collage, sculpture, and installation in the service of generating new experiences that transcend existing boundaries or assumed functions. Cosmic landscapes and bathroom plumbing are used as metaphors for the body in transition in his own explorations of the fluidity of gender and sexuality. Doughtie describes his practice, "My sculptures and installations are metaphors for how I envision my own body and the bodies of those who are, like myself, transgender. Often the sculptures, or their attached component parts, are tools that would be used specifically by a trans person to push the body to something other than its current limits."
Elliot Doughtie, Alchemy Set For A Future Body (Part 2), 2016, mixed media installation: plaster, paper clay, plastic tubing, ink, ink jet transfer, copper couplings, and found table, 48" x 60" x 30"
Jeanet Steckler Dreskin, BFA 1942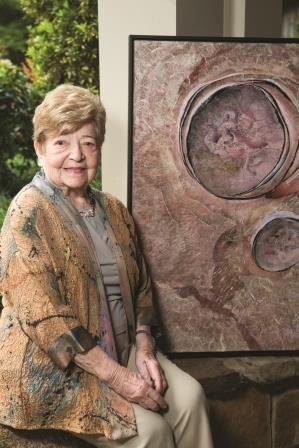 Painter, printmaker and medical artist Jeanet Steckler Dreskin (b. 1921) earned a BFA from Newcomb College in 1942, a certificate in Medical Art from Johns Hopkins the following year, and was the first MFA to graduate from Clemson University in 1973. She studied at Newcomb College from 1938-1942 under the direction of Will Henry Stevens, Xavier Gonzalez, Robin Field, and Caroline Durieux. She also took night classes in anatomy with John McCrady at his eponymous art school in the French Quarter. While at Newcomb she was a member of the honorary biological society LAMPYRIDS and served as art director for the Tulane Hullabaloo. Upon graduation she received the Ellsworth Woodward Award in painting.
"The World's Her Oyster: 70 Years of Making Art" exhibit by Jeanet Dreskin is currently on display at the Lee and Acorn Gallery at Clemson University until February 13, 2014.
Included in this exhibition are paintings from the artist's private collection as well as from the collections of the Greenville County Museum of Art, South Carolina State Museum, South Carolina State Art, Pickens County Art Museum, Clemson University International Center for Automotive Research, Spartanburg Art Museum, Palmetto Bank, Hampton III Gallery, and private collectors.
Dreskin's work is in the collections of The Smithsonian National Museum of American Art in Washington, D.C.; Imperial Chemicals in Manchester, England; Strobel in West Sohne, Munich, Germany; Guild Hall Museum in East Hampton, Long Island, N.Y.; Zimmerli Museum of Rutgers University in New Brunswick, N.J.; Georgia Museum of Art, Athens, G.A.; Asheville Museum in Asheville, N.C.; Columbia South Carolina Museum of Art in Columbia, S.C.; Gibbes Museum of Art in Columbia, S.C.; Greenville Health System in Greenville, S.C.; Wells Fargo National Bank in Greenville, S.C., and the Federal Reserve Bank in Charlotte, N.C.
[photo credit: Jana Candler, TALK Magazine]
Helen C. Evans, BA 1965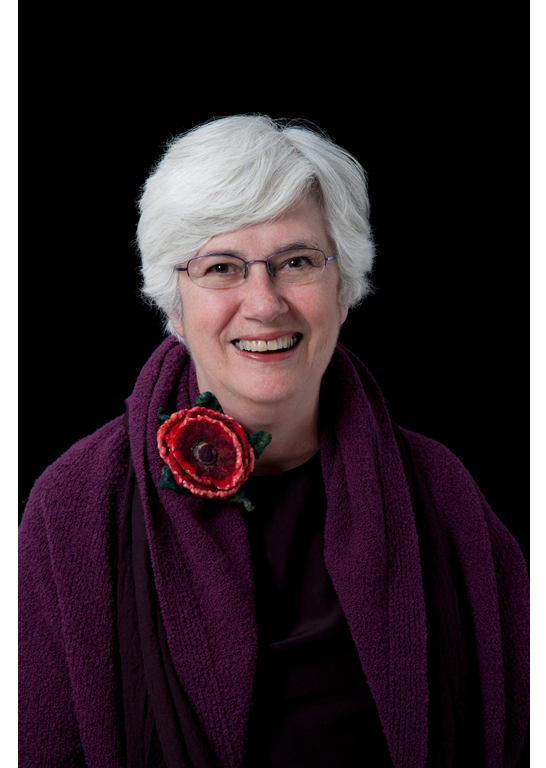 Helen C. Evans, the 2005 Newcomb College Alumna of the year, is the Mary and Michael Jaharis Curator for Byzantine Art at the Metropolitan Museum of Art. A specialist in Early Christian, Byzantine and Armenian art, she received her masters and Ph.D. from the Institute of Fine Arts, New York University. After joining the curatorial staff of the Museum in 1991, she installed the Mary and Michael Jaharis Galleries of Byzantine Art, the first galleries dedicated to Byzantine art in an encyclopedic museum, in 2000 and expanded them in 2008.
She has curated three landmark exhibitions on Byzantine Art - Byzantium and Islam: Age of Transition (7th – 9th Century) in 2012, Byzantium: Faith and Power (1261-1557) in 2004, and The Glory of Byzantium: Art and Culture of the Middle Byzantine Era (843-1261). Her other exhibitions include: Treasures in Heaven: Armenian Illuminated Manuscripts; Textiles of Late Antiquity; and The Philippe de Montebello Years: Curators Celebrate Three Decades of Collecting, in honor of the director's retirement in 2008.
Dr. Evans has lectured widely in the United States and abroad and has taught at the Institute of Fine Arts of New York University, Columbia University, Hunter College, the University of Chicago, and Oberlin College. She is a member of the Board of the Mary Jaharis Center for Byzantine Art and Culture at Holy Cross College; treasurer and a founding member of the Association of Art Museum Curators; and former chair of the Editorial Board of the Art Bulletin.
Mignon Faget, BFA 1955
Congratulations to Mignon Faget, this year's recipient of Tulane's Distinguished Alumni Award. A fifth generation New Orleanian, Mignon Faget has flourished in the culture and traditions of her birthplace. Faget's formal training in the arts began at Sophie Newcomb College of Tulane University from which she received a Bachelor of Fine Arts degree, with a concentration in sculpture. She furthered her studies at l'Atelier de la Grande Chaumiere in Paris and the Parsons School of Design in New York. Faget returned to Tulane University to take post graduate classes in botany and other areas of personal interest.
Faget began her design career in 1969 with the launch of her first ready-to- wear clothing collection. The success of the collection prompted her to explore creating accessories such as belts, pins and jewelry to compliment the ready-to- wear pieces. This early exercise and her studies in sculpture from Sophie Newcomb College led to her first jewelry forms. Since then, jewelry has become her all-consuming interest in the field of design. From the beginning, she has worked closely with natural and architectural forms—extracting the essence of a particular shape and refining into her own unique sculptural interpretation.
Faget has also long been an active philanthropist, preservationist, and art advocate. In 1969, when Faget launched her first collection, women entrepreneurs were a bit of rarity in New Orleans. Today, she is committed to celebrating and advocating for women across a number of fields as well contributing to diverse communities and groups in need. In addition, she is passionate about giving back to the culture and community that inspires her life's work. Since 2005, Faget has donated over half a million dollars of proceeds from her designs to the Audubon Society, Louisiana Beekeeper's Association, Tulane-Xavier University Center for Bio-Environmental Research, the Louisiana Cultural Economy Foundation, and the Coalition to Restore Coastal Louisiana, to name a few. She has been an active leader and supporter of the arts and has served on boards for several of the local museums. The Historic New Orleans Collection and the Louisiana State Museum Capitol Park honored Faget with a retrospective exhibit titled Mignon Faget: A Life in Art and Design.
https://alumniawards.tulane.edu/awardee/mignon-faget/
Michelle Knox, MFA 2011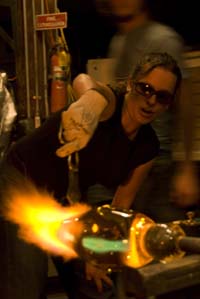 Michelle Knox spent her two years in the Studio Art graduate program studying glass under Gene Koss and Steve Durow. After graduating this May she worked in the New Orleans community with kids ages 8-16 at The New Orleans Glass Works School.
In September, Knox returned to the Bay Area and moved into a new studio at the historic artist compound that legendary ceramicist, Peter Voulkos, started more than 20 years ago.Her first project out of the new space was a successful show in Manhattan at Oracle 113.
Upcoming projects include showing work at the Affordable Art Fair in Los Angeles with Micaela Gallery + Projects and being invited by Sculpture Site Gallery to participate in a Designer Show Case House in Marin County, CA.
Michelle is currently teaching kiln casting, coldworking and hot glass at The Crucible in Oakland, CA.
Adriana Obiols-Roca, MA 2019
2019 Art History M.A. graduate Adriana Obiols-Roca was recently awarded the Stone Center for Latin American Studies' Donald Robertson Prize for best paper in the Humanities by a Latin American Studies Graduate Student. This award honors Donald Robertson, a professor of Art History at Tulane for more than 25 years and a pioneer in the field of Latin American art history. He authored the groundbreaking Mexican Manuscript Painting of the Early Colonial Period: The Metropolitan Schools, and motivated a generation of budding Art Historians and Ethnohistorians.
Adriana's award-winning paper, "The Battle of the Whale: Bataillean Aesthetics in El Techo de la Ballena," analyzed the 1960s Venezuelan artistic and literary group El Techo de la Ballena, in relation to the dissident surrealism of French writer Georges Bataille. While El Techo has been the focus of sustained analysis on the part of literary critics, the group's artistic production has received comparatively less attention. Their artistic production has previously been understood as part of a continuation of postwar gestural abstraction, and as a rejection of the geometric abstract art and modernist architecture that characterized the developmentalist state in 1950s-70s Venezuela. However, Adriana's paper convincingly argues that El Techo's practice should not be understood as a belated modernist project, but as quintessentially of its time, as a particularly Venezuelan take on the 1960s neo-avant-garde strategies of entropy, base materiality, and assemblage.
Marjorie Rawle, MA 2019
Marjorie Rawle, a 2019 M.A. graduate, has joined the Fitchburg Art Museum in Fitchburg, MA, as a Terrana Curatorial Fellow through summer 2020. The Terrana Curatorial Fellowship, a 13-month, full-time appointment for a recent M.A./Ph.D. graduate in museum studies/art history, is designed to launch emerging curators into substantial museum careers by providing an immersive educational experience. Marjorie completed her M.A. thesis on the creative relationship between AbEx painter Grace Hartigan and New York school poet Frank O'Hara, and she completed a graduate internship at the New Orleans Museum of Art.
Michel Varisco, MFA 1994
The unveiling dedication of artist Michel Varisco's public art installation, "Turning (prayer wheels for the Mississippi River)" will take place on site, the Lafitte Greenway entrance at Bayou St. John and Jefferson Davis Parkway, on Saturday November 18th, 2:30 - 4:30pm.
Commissioned by the Arts Council of New Orleans, the City of New Orleans, and featured in the Prospect.4 Biennial, "Turning" elegantly blends social and environmental activism with interactive sculpture, where the history of the land itself is an integral component of the piece.
"Turning" consists of three, 9 foot, stainless steel, interactive "prayer wheels", individually cut with iconography of the Mississippi River from three distinct periods of the river's history, (the wild era, colonial plantation era, and petrochemical era), based on the mapping in Kate Orff's seminal book, "Petrochemical America". Each cylinder is rooted in a hand-made mosaic base that depicts the land building patterns created from deposits of the river's sediment over 7000 years, informed by the Fisk maps of 1944. At night, the prayer wheels will emit pulses of dim blue light via solar power, and visitors may spin each wheel to intensify the emanations. The path that weaves through the installation echoes the river's serpentine curvature, while the indigenous gardens surrounding the site were planted by Varisco and a team of devoted community volunteers.
Phoebe Washburn, BFA 1996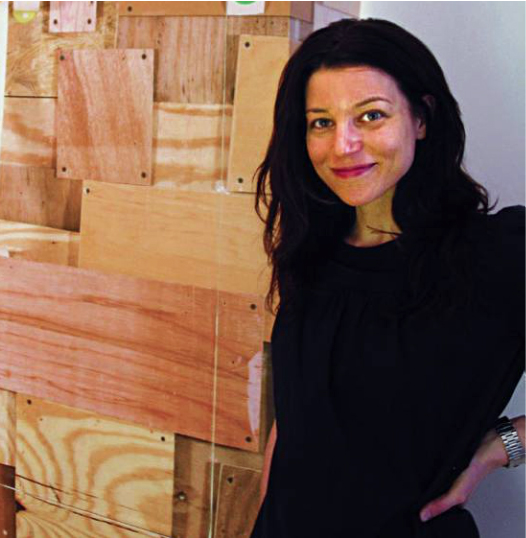 Though her work may feature recycled materials, garbage, and even plants, installation artist Phoebe Washburn (NC '96) wouldn't exactly call her work a political statement about the environment. 
"My art is more playful than political," says Washburn.
"I'm trying to find ways to map out space, to show systems. And in finding ways to have all that, I began using recycled materials and finding new purposes for things."
The Brooklyn, N.Y.-based Washburn has made quite the splash around the world with her work, which has been displayed from Los Angeles to Denmark. The prestigious Whitney Museum 2008 Biennial in New York recognized her work, and her reputation continues to grow. 
Washburn's work is visually striking and complex. Consider her piece Nunderwater Nort Lab, a 2011 creation that took up the main space at Zach Feuer, the New York gallery that represents her. The piece was centered around a massive cylindrical structure constructed out of reused two-by-fours. Audio was pumped in, while objects such as growing green plants under lights and used Gatorade pouches were posed.
Her 2013 installation, Pressure Drop for Richard Strands (a history of one thing to another in lemon-aideness) at Kunsthallen Brants in Odense, Denmark, was a large interactive system set into motion by museum visitors' "thirst."
Washburn's pieces are labor-intensive. Before she works, she will visit a potential site, draw sketches, and then craft a proposal for a piece. Washburn notes that most of the final construction for her installations takes place inside the venue.
"I build parts and components ahead of time in my studio but ultimately most of the construction is done on-site. It all comes together at the very end," she says. "The process is exciting. But it can also be stressful."
Right now, Washburn is taking time off from creating new pieces. She's busy with her baby daughter, Irie, born in April. Washburn's husband and Irie's father is A.j. Bocchino (TC '96).
- Andrew Clark, Tulanian, September 2013